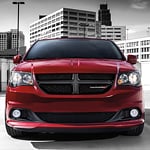 When you are on the lookout for a sporty and popular family minivan, look no further than the new Dodge Grand Caravan. It was built with your family's safety in mind whenever you head out on the road.
Whether you are driving just in town or on the highway for long journeys, you can take comfort in knowing that the new Dodge Grand Caravan has some of the most innovative safety features available to minivan owners today. It comes, for example, with built-in traction control to keep you safe on slippery or wet roads. The tires grip the road to prevent you from sliding. It also has a rear-view camera to make backing up and parking even easier.
Find out what the new Dodge Grand Caravan can offer you in terms of safety. Check out its numerous standard safety features by taking one out for a test drive today.