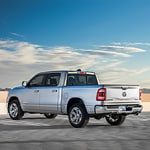 The RAM 1500 is a stunning new vehicle that has capabilities that are just as bold as its appearance. A popular light duty pickup truck, this vehicle lends itself to even the most difficult jobs and handles them with ease.
The RAM 1500 gloats of being able to lug over 12,000 pounds when equipped to tow. That's because its steel frame is fashioned from 98% high strength steel, making it more than capable of finishing the job. Furthermore, the RAM 1500 also provides its riders with a flatbed that is both practical and multi-functional, as its doors fold and flex depending on the need. This makes loading cargo much easier on you, and cuts down on the amount of time needed to get everything packed up!
When it comes to the RAM 1500, it is no surprise that it is known to be one of the hard worker's very best companions. That's because it offers the strength and functionality to get you through the tough tasks you're bold enough to take on! So hop in and ride on, because RAM has you covered.